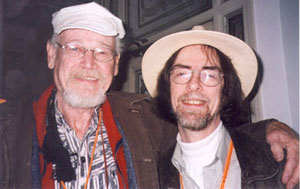 Spider's Online Diary
---
Much more detailed, and much less frequent than a blog, every few months Spider writes a Diary entry to let us know what's on his mind. Great performances he has seen, great albums he has discovered, exciting events and personal recollections are all grist for the Onilne Diary.
1 December, 2001--Amsterdammed if we do? Sounds good to me...
The following article appears in the TRAVEL section (for a change) of the Globe and Mail, Saturday 1 December 2001.
27 February, 2001--Serendipity-Do: A memoir of spousal collaboration
Some thoughts on collaboration, to mark the May 2001 reissue of STARMIND by Baen Books.