Spider's Online Diary
---
Much more detailed, and much less frequent than a blog, every few months Spider writes a Diary entry to let us know what's on his mind. Great performances he has seen, great albums he has discovered, exciting events and personal recollections are all grist for the Onilne Diary.
9/11/15 -- What, Me Forry?
I am grattered and flatified to be able to report that I have tied with Charles Lee Jackson II for this year's Forry Award, given out in memory of the late great Forrest J. Ackerman since 1966 by the members of LASFS, the Los Angeles Science Fiction Society.
It's a lifetime-achievement honour, and the list of previous winners is so impressive I can't resist reproducing it here:
1966 Ray Bradbury
1967 Fritz Leiber
1968 Poul Anderson
1969 Larry Niven
1970 Harlan Ellison
1971 Theodore Sturgeon
1972 A.E. van Vogt
1973 C.L. Moore
1974 Robert Bloch
1975 Kris Neville
1976 Marion Zimmer Bradley
1977 L. Sprague de Camp
1978 Leigh Brackett
1979 Jerry Pournelle
1980 Robert A. Heinlein
1981 Horace Gold
1982 Arthur C. Clarke
1983 Frank Kelly Freas
1984 Julius Schwartz
1985 Robert Silverberg
1986 Jack Williamson
1987 Donald A. Wollheim
1988 Ursula K. Le Guin
1989 Andre Norton
1990 Isaac Asimov
1991 Curt Siodmak
1992 Hal Clement
1993 Roger Zelazny
1994 Frederik Pohl
1995 Harry Turtledove
1996 Chuck Jones
1997 Jack Vance
1998 David Brin
1999 Connie Willis
2000 Anne McCaffrey
2001 Ray Harryhausen
2002 Forrest J Ackerman
2003 Philip Jose Farmer
2004 Len Moffatt
2005 John DeChancie
2006 William Tenn
2007 David Gerrold
2008 Joss Whedon
2009 Fred Patten
2010 Karen Anderson
2011 Mike Glyer
2012 Terry Pratchett
2013 Lois McMaster Bujold
2014 Tim Powers
I have to say I'm in some damn fine company. Most of the gods of my personal pantheon are there. My only regret is that Jeanne can't be here to share this with me.
My profound, sincere thanks to the members of LASFS. I look forward with great eagerness to receiving the plaque that I have read comes with the award, and I hope one day I'll have an opportunity to view the special plaque in LASFS HQ on which I understand my name will now be inscribed with those above.
—Spider
1/26/15 -- How I Spent My 2014 Christmas Holidays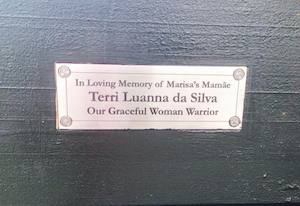 My beloved father Charlie Robinson's funeral mass was held on Jan 5 2015 at St Pius X Church in Plainview, where he was usher at the the 7:45 mass without fail for something like forty years. Afterwards, his ashes were interred, with military honors (he served in the US Navy in WWII, on a destroyer he always maintained was named after him, the USS Smartt), in Long Island National Cemetery in Pinelawn, beside the body of his first wife—my mother, Evelyn, who predeceased him in 1975. I like to think they are enjoying their reunion, cutting up old jackpots.
My father left this planet on December 24, a little after noon on Christmas Eve, at age 92. His passing was painless and anxiety-free; he knew all three of his children were at his side in his home in Okatie, SC. He lay in comfort on a hospital bed, in his own bedroom with the stunning view, and he had a superb nurse named Effie McNall, whom I love and will never forget. If you're ever in South Carolina and need nursing care, try to get Effie. She's aces, truly.
A few weeks earlier, on the morning of Dec 5, I was present when my daughter Terri Luanna Robinson da Silva died at age 40 in a roomful of people she loved, in Middlesex Hospital in Middletown CT, not far from her home in Niantic.
She and Marisa had come to visit me on Bowen Island only two months before she died, with her buds Nicole Wademan and Eryka Peskin, and we all celebrated Canadian Thanksgiving together at the home of my friend Earl Jenkins. My house echoed with love and laughter and music and warmth for ten glorious days.
Terri was in rocky shape from the chemo, but seemed determined to pay no attention to it. She walked with a pronounced limp, but never seemed tired, or stopped smiling. For me, her visit was like watering a cactus. I took nourishment from her, and from little Marisa who owns my heart, and was sorry to send them home to Connecticut at the end of their visit.
Then came her 40th birthday, and friends and family decided to throw her a special birthday celebration—in Chicago, since that was equally inconvenient for everyone to attend. Almost on arrival, Terri fell and broke her femur and hip. Cancer and/or chemo had weakened her bones that badly: that had been the cause of her limp. From there, she went downhill fast—getting her back to Connecticut was a major effort—and in only a few more weeks she was gone.
Like my father's, and like her mother's before her, Terri's passing was peaceful and painless. A memorial party, "...with dancing...," was held at her specific request. Thanks to the efforts of her Aunt Laurie O'Neil, a bench will also be dedicated to Terri's memory in Astoria Park in New York, her beloved city. For further into see Terri's blog at http://gracefulwomanwarrior.com
I hope some of her ashes will come to Bowen Island, and I'll see that they go into beaufiful, life-flowering places. She and Heron only lived here on Bowen for a couple of years, but they are both well remembered and greatly missed, as is Miss Marisa. (Who is now five.)
Without the support of kind strangers on the interwebs, I would not have been able to be present for either of the above departures—and my son-in-law Heron would be even deeper in hock. The Dalai Lama was once asked to sum up what he believed, as briefly as possible for a radio soundbite—and His Holiness never hestitated. "The heart of Buddhism," he said, "Is Kindness."
My dear friend Steve Fahnestalk mobilized that group of kindred souls on Facebook who resonate to the name Callahan, put out the word to them about my troubles, and took in donations—from as far away as Antarctica. Those of you who responded made it possible for me to keep living through all this pain, and to stay as close as possible to my loved ones while they were dying, and also for my brave son-in-law Heron to cope with some of the appalling expenses of being ill in America. Then Rose and Dave Wilson gave me a ticket home and even booked the flight, while dealing with problems of their own. My undying thanks to you all.
Here are the wisest words I know on Death. They were spoken by the poet and entrepreneur Anthony Soprano. Whenever a character got whacked, on that series, the survivors always turned to Tony for his wisdom, to help make sense out of monstrous tragedy. Tony always said the same words, usually with a shrug:
"Whaddya gonna do?"
I don't think that can be improved on.
So that's how I spent my Christmas Holidays in 2014. At the moment, I feel numb as a hammered thumb….but I know it will hit me, over time. Last time, it waited three years and then gave me a surprise heart attack. All I can tell you right now is that I have lost not just a daughter and a father in the same month, but the best daughter and the best father any man could ever have had the audacity to imagine, admirable in all ways. I'm amazed I can still remember how to type. To talk. To breathe.
Thank you, friends everywhere, for the support and help. You are what I love best in humanity. At a time when it really mattered, you made a big difference. I appreciate the cards, the calls, the PayPal donations, the emails to this site, the gifts, and the good thoughts.
Amid all the sadness and the death and the helplessness of it all, let me also share with you one of the few comparatively bright moments of the whole holiday season.
Following my father's passing, we four—me, my sister Mary, her husband John Moore, and my brother Jim—spent two brutal days of marathon driving in rotten weather, from South Carolina north to Long Island. We arrived exhausted late at night, fell over, and the first thing next morning, my sister suggested a nice long walk on the boardwalk of the nearby state park.
I stared at her. It was freezing and windy out. The night's sleep had not refreshed; the morning's coffee had not restored. My whole body was one big cramp. My spirit was somewhere down in my shoes.
But I couldn't deny that I needed the cardio workout. I bundled up, and off we went, me, Mary, and John.
And within only a few hundred meters, I slowly became aware that I was swinging along like a walkin' fool, with a glide in my stride and a cut in my strut, coverin' ground. The breeze was bracing. I caught myself humming under my breath. How odd. It was as though some sort of weight had been lifted from me….
Once I noticed it, I understood at once what it was. For the first time in what felt like forever…nobody I loved was dying.
For something like six years, I'd had alarm bells going off in my head every minute of every day. Loud ones, insistent ones, urgent ones. "One you love is in mortal danger. You must save them. Or at least avenge them." Of course, neither was possible. But that didn't make the alarm bells go silent, not for a minute.
Now the silence in my head was wonderful. There was room in my skull for music again. I was off-duty.
I have notified the rest of my loved ones that the next one to get diagnosed with anything ugly is going to get the crap beat out of them. Enough already!
In fact, from now on, I don't want to see any of you showing up at sick call, either. This death stuff is getting old. Let's us all get old for a while. What do you say?
Happy New Year, everyone. Goodbye, Dad. Give my love to Mom, and Nana too. Goodbye, Luanna my darling. Give my love to your mother.
[© 2014 by Dori Rubbicco. Lead vocal: Tanya Nelson. Piano: Kathleen Rubbicco. Backup vocals: Dori Rubbicco and Erin Rubico]
OOPS! The above credits for Dori's song are incorrect.
I misunderstood what I read; my apologies. Dori is in fact working on a recording using the personnel I credited—but it is still under construction at this time. The demo version that now appears on the website is all Dori: composer, keyboards, and all vocals. I hope to replace it with the final version as soon as that's ready for release.